Блок медной охлаждающей пластины для печатной платы
В течение 10 лет мы поставляем решения для отопления практически во все области промышленного применения, включая электронику, производство электроэнергии, центры обработки данных, новые источники энергии, автомобили, медицинские, химические и строительные машины.

пластина охлаждения медных труб
Расследования
Введите подробную информацию о продукте или другие конкретные требования для получения точного предложения. Мы ответим в течение 24 часов.
PRODUCT DESCRIPTION

NO.

ITEM

DESCRIPTION

1

Material for base

Aluminum alloy 3003, 6063,6061

2

Material for tube

T2 pure copper

3

Tube Size

Φ9.52*0.7,10*1,10*1.5,12*1,12*1.5,12.7*0.7,14*1,16*1 mm

4

Dimension (L*W*T)

600*500*15 mm

5

Cooling Capacity

1 KW

6

Working Pressure

3 to 4 bars

7

Flatness

0.15 mm

6

Surface roughness

3.2 um

7

Flow rate

6 to 10 L/min

8

Manufacturing Method

CNC machining, rolling tube, pressing and glue sealing

9

Joining Method

Press lock and glue sealing

10

Cooling Method

Liquid cooling

11

Surface Finish

Mill finish or anodization

12

Coolant

Deionized Water,Inhibited Glycol and Water,Dielectric fluid

13

Warranty time

1 year

14

Place of Region

Jiangsu province of China

15

Reference Standard

GB/T 3190-2008,GB/T 14846-2008,ISO 2768
  Metalli's cold plate technologies include
  ◆ Vacuum brazed or controlled atmosphere brazed and CNC machined performance fin cold plates and chassis
  ◆ Friction Stir Welded (FSW) performance-fin cold plates and chassis
  ◆ flat tube cold plates
  ◆ Press lock Copper tubed cold plates
  ◆ Vacuum brazed and CNC machined copper cold plates
  ◆ Stamped and vacuum brazed cold plates
  ◆ Gun-drilled custom cold plate
  ◆ Custom channeled cold plate with ladder configuration
  ◆ Inner-Finned Brazed Cold Plates
  ◆ Aluminum extruded and welded or brazed cold plate
  ◆ Aluminum die casting and welded or brazed cold plate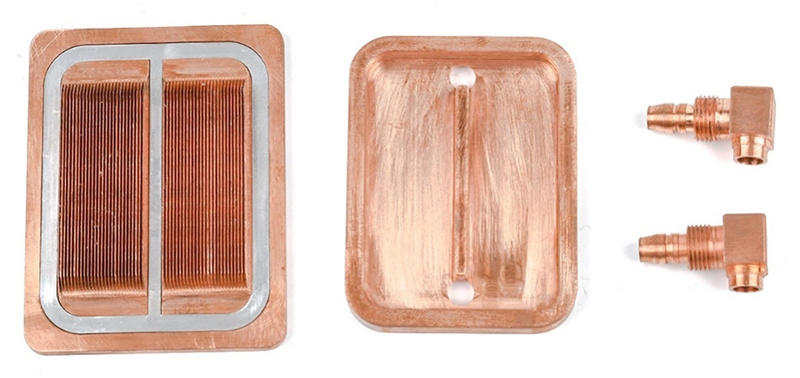 ▲ Components for vacuum brazed cold plate

  ▲ Stamped and vacuum brazed cold plate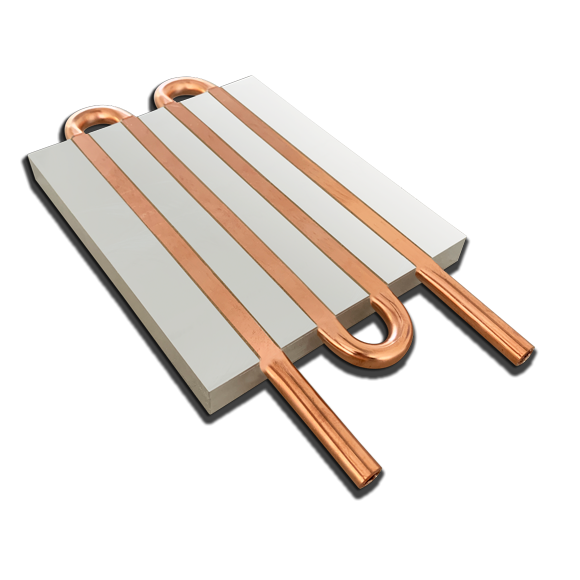 ▲ Copper tubed cold plate
  We also supply value added components as below
  ● Fittings and connectors
  ● Hoses and tubes
  ● Heat exchangers or radiators
  ● Pumps and reservoirs
  ● Fans
  ● Other accessories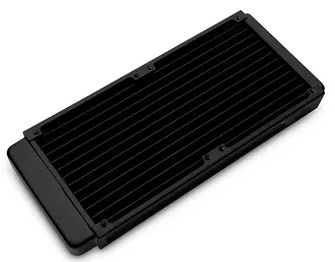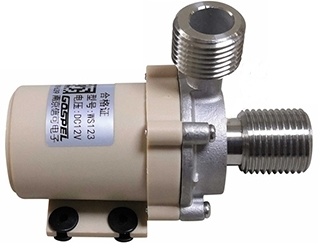 ▲ Radiator ▲ Pump
Assessing the Quality of a Tubed Cold Plate
As many applications move from air cooling to liquid cooling, tubed cold plates are often the technology of choice. Most machine shops are able to produce a tubed cold plate. However, a well designed cold plate results in a product with noticeable and significant advantages in both quality and performance. Figure 1 shows tubed cold plates from three different manufacturers. Which cold plate is likely to have the best performance or be the most reliable?
Using the information presented below, the quality of a tubed cold plate can be assessed through quick observation.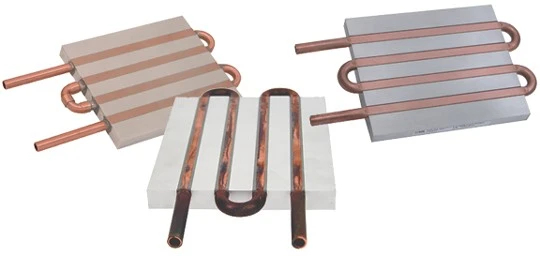 Fig. 1. Tubed cold plates from three different manufacturers
High reliability is important, as a coolant leak can be catastrophic in a liquid cooling system. First examine the tubes; they can reveal a lot about the reliability of the cold plate. A cold plate that uses continuous tubing is inherently more reliable than one constructed from straight tubes connected by soldered joints, as any joint increases the potential for leakage.
Look also at the quality of the bends. If the tube bending is not carried out carefully, the tube can be deformed. While this does not affect the reliability, it changes the cross-sectional profile of the tube, which can result in increased pressure drop.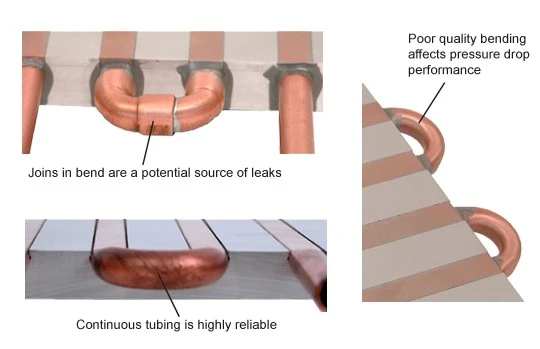 Fig. 2. Look closely at the bends for an indication of reliability and performance
Next look at how the tubes are attached to the plate. For maximum thermal transfer, tubed cold plates should be designed without epoxy between the tubing and the plate. Where epoxy is used between the tube and the plate, the epoxy serves the dual purpose of holding the tube into the plate and making thermal contact between the two components. However, if applied too thickly, it can be counterproductive and act as a thermal insulator.
Finally, examine the cooling surface of the plate. For demanding applications, direct contact cooling between the tube and the component is desired. This means that the tube surface has to be flush with the aluminum plate. A common manufacturing technique is to put an over-sized tube into a channel and machine off the top. However, this costly technique, known as skim cutting, creates a tube section of varying thickness that affects structural integrity and performance.
Another alternative is to embed the tube below the surface of the cold plate, and add copper inserts to level the surface. This technique is both expensive and limits performance - the cooling tube is further from the components being cooled, and the additional layer of epoxy required between the tube and the insert further decreases performance.
Fig. 3. Differing methods of holding the tube in place and ensuring a flat mounting surface.
Careful design of the locking feature and proprietary pressing techniques ensure that the tube is flush with the plate surface, providing good thermal contact with the component being cooled. This manufacturing method also ensures good metal-to-metal contact between the tube and the plate, guaranteeing excellent thermal performance and eliminating the need for epoxy. Figure 4 demonstrates the performance advantage of Press-Lock technology compared to cold plates manufactured using epoxy.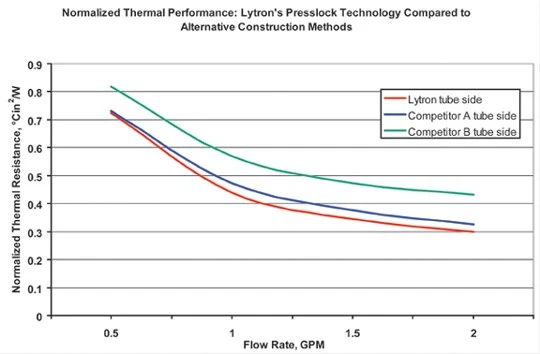 Fig. 4. Performance comparison of an epoxy-free cold plate manufactured using our Press-lock technology to other cold plate designs.
To avoid galvanic corrosion, we highly recommend using the same materials, or materials with similar electrical potential, throughout your cooling loop. You should ensure that the plumbing, connectors and other components do not introduce a reactive metal into the system.
Using the same materials throughout your circuit does not mean that you have to sacrifice performance.
Summary:
Reliable
Continuous tube
Flattened top surface

Unreliable
Tube with joints
Skim-cut top surface

High Performance
Epoxy-free construction
Tubes flush with surface of plate

Lower Performance
Epoxy between tube and plate
Inserts over tube to create flat surface
When assessing the quality of a tubed cold plate, the most important considerations are continuous tubing, an epoxy-free construction, and an overall appearance that demonstrates design expertise and careful manufacturing. Other factors that you may also want to bear in mind are the choice of fittings and the selection of sizes. Many manufacturers offer a handful of standard sizes, which are usually considerably less expensive than custom designs. If you are likely to need a custom cold plate rather than an off-the-shelf design, it is wise to select a manufacturer that can offer full custom design capabilities, including thermal modeling and analysis, rather than one who simply offers 'build-to-print' cold plates.
pcb cooling block
cold plate
cooling plate block
cold plate with tube
copper cold plate
pcb cooling
pcb cooling plate